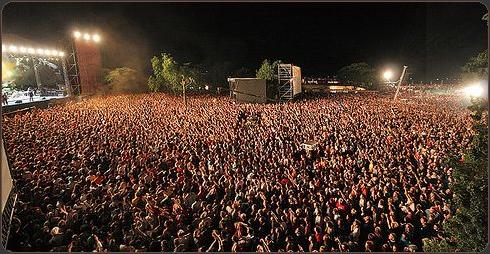 EXIT Festival 2009 in Novi Sad, Serbia was celebrating it's 10th anniversary this past July. EXIT saw approximately 200,000 people during its 4 days of festivities, and a wide range of DJs and Live Acts including The Prodigy, Moby, Lily Allen, Andy C, Sasha and Digweed, Steve Lawler, James Zabiela and Nic Fanciulli and lots more which are all listed here.
For me the best show by far was Prodigy who totally ROCKED the place! There were 40,000 people at the show and the energy was unlike anything I have ever felt at any show that I have been to.
Here is a video and interview with the Prodigy from a Serbian TV station:
I was fortunate enough to catch the Sasha and Digweed show at EXIT festival in Serbia this summer. Although their set was good, I was surprised that they didn't bang it out more at a festival the size of EXIT. There was about 20,000 people at the show, but I found they played a light set compared to the one I heard them play for a crowd half that size in Montreal at the end of 2007.
In any event, I am not complaining. The show was great and I thoroughly enjoyed listening to their set in a great setting at Petrovaradin Fortress in Novi Sad, Serbia. Here are some videos from their show:


Tracklist for Sasha & John Digweed @ EXIT Festival 2009 pt. 1
:
– Made by Monkeys – I think of you (Rui Da Silva remix)
– Moby – Pale horses (Gui Boratto remix)
Tracklist for Sasha & John Digweed @ EXIT Festival 2009 pt. 2
:
– Dance Disorder – My Time (Radio Slave Rekids Tribe Mix)
– Mobilize - Deep Silence
Tracklist for Sasha & John Digweed @ EXIT Festival 2009 pt. 3
:
– Humate – Love Stimulation (Radio Slave Full Length Vox Mix)
Download DJ Troika – May 2009 Mix
Notes:
This set is a mix I put together of some of my old tracks that I was playing around Halloween of 2007. It has a much lighter techy/melodical feel to it. Good for listening before going out or at the end of the night.
Tracklist:
1. Plasmik – Pearls on a String
2. Plasmik – Pitch It
3. Klod Rights – Mind State (Groove Mind Mix)
4. Nico Purman – Calor Humano
5. Pablo Bolivar – Noom
6. John Dahlback – Oooh Oh I (Sebo K Mix)
7. Pele – Childhood's End (Kollectiv T Mix)
8. Essi J – Ecto Dream
9. Sebo K – Horizons
10. Lukas – Gaucho
11. Rodamaal – Insomnia (Ame Mix)
12. N/A
13. Riley Reinhold – Lights in My Eyes (Patrice Beaumel Mix)
14. Above & Beyond – Home (Jaytech Mix)
Download DJ Troika – October 2008 Mix
Notes:
This is a set I mixed using some of my most recent tracks, but I did not put together a tracklist unfortunately. I like this mix very much though, probably the best one on the site so far.
Tracklist: N/A
Download DJ Troika – May 2008 Mix
Notes:
Set I made the day after the Deadmau5 show at Stereo Nightclub in Montreal. I thought he was going to play this style but he didn't.
Tracklist:
1. Reference – Exo
2. The Glitz – White Line (Elia Casetti Orchestra Dub Mix)
3. Amtek & E-Freak – Micro Technology
4. The Junkies – Statisch
5. Jim Rivers – Haze
6. Chelonis R. Jones, El Carlitto – On and On (Troika Dub Edit)
7. Driver, Erre, Iaqui – Essenza
8. Booka Shade – Charlotte (Dubfire Remix)
9. Andrea Palazzo – Living in the Future
10. Sven Vath – The Beauty and the Beast (Eric Prydz Re-edit)
11. Brasco – Autobahn
12. Amtek & E-Freak – Short Circuit
13. Marascia, Dusty Kid – Sineless0
14. Beckers, Hatfield – Keep on
15. Robert Babicz – Dark Flower (Joris Voorn Magnolia Mix)
Download DJ Troika – April 2008 Mix
Notes:
Busy this month so here is part 1 of a set I made in December 2007. Dark and progressive, builds slower because it's part 1 of 2.
Tracklist:
1. Alex Young, Artech – Minimalesk
2. Slaaf – Black Russian
3. Frank Bojert – Luftschloss
4. Kiki, Sasse – Belvedere
5. Lucas Rodenbush – Redirect
6. Daso – Thujon
7. Fernado Ferreyra – Divine Moment (Damod Toti Remix)
8. Ludovic Vendi – Magic Morning
9. Oliver Huntemann – Sorgenbrecher
10. Ludovic Vendi – La Tesis
11. Jeroen Verheij – Chica Go (Rejected Rotterdam Rework)
12. Swen Weber – The Good
13. Red Robbin, Jakob Hilden – Snapdragon
14. Daniel Frontado – New Revolution
15. Pryda – Odyssey
Download DJ Troika – March 2008 Mix
Notes:
This is a set a made with the help of my girlfriend for her birthday. She selected most of the tracks and I filled in. More of a clubby and melodical tech set.
Tracklist:
1. Plusminusklang – Jennas Melody in Love (Solar Poppcke Mix)
2. Plasmik – Mindpattern (Afrilounge Deep String Mix)
3. Marc Antona – Sweet Peppers
4. Pig & Dan – Deliverance
5. Alectric – Selected Moments (Neurotron Mix)
6. Nick Curly – Another Terjerker (Afrilounge Visionary Mix)
7. Noise Professor – Der Wunderbaum Abmischung
8. Dan Berkson, James What – Reflections feat. Robert Owens
9. Husley & Gunz – New Pleasure (Mastiksoul Mix)
10. Petter – Freak N Love (Dousk Vectored Mix)
11. Ludwig Coenen – Pulse Mod
12. Danilov – Benefactor
13. Alec Knightley – Molekularstruktur (Daniel Bortz Mix)