Notes:
It's been exactly three years since I last posted a mix. Hopefully I'll get a chance to post some of them here soon. In the meantime, here is my Halloween 2012 Mix:
I just saw this yesterday and had to re-post it. Jim Pavloff analyzes and takes apart two very popular Prodigy tracks: Smack my Bitch Up and Voodoo People. He identified most of the original samples used by Liam Howlett to make the tracks and then pieces them together using Ableton. And he does an amazing job at it too! The tracks sound almost the same. For all those interested in using Ableton to make tracks, these are very inspirational videos.
Smack my Bitch Up

Voodoo People

Notes:
Very busy again lately, so I have had no time to do a mix of my own. I am also learning to DJ with Traktor, so my next mix should be something completely different and much more creative. In the meantime, here is Sasha & Digweed's Mix Live at the Sunset Cruise in Miami this year. It's a little different, more melodical and more vocals, but I like! Tracklist is at the bottom.



Sasha & Digweed's Mix Live at the Sunset Cruise in Miami 2010 Tracklist:
[00:00] 01. Felix Da Housecat – Silver Screen Shower Scene (M.A.N.D.Y. Remix)
[04:00] 02. Lusine – Two Dots (Nic Fanciulli Remix)
[10:00] 03. Steve Bug feat. Gigi – Like It Should Be (Ribn Translucent Vox Remix)
[14:00] 04. Trentemøller – Sycamore Feeling (Gui Boratto Remix)
[20:00] 05. Quivver – In Your Boat
[24:00] 06. Robert Babicz – Dark Flower (Fever Mix)
[30:00] 07. Layo & Bushwacka Vs Shit Robot – Fatale Feeling (King Unique Bootleg)
[38:00] 08. The Juan MacLean – Feel So Good
[45:00] 09. Gui Boratto – Azzurra (It's Not The Same Version)
[49:00] 10. Saint & Sinners – Pushin' Too Hard (Nic Fanciulli Remix)
[55:00] 11. N/A
Notes:
I found this gem while browsing through the Dancetrippin archive. What a great set by Dubfire! Most important is what he is using to mix his set with. Dubfire has gone completely digital and is using a 4-deck Traktor set-up to play his tracks. Almost full tracklist at the bottom and a list of equipment he is using.


Dubfire Space Club Ibiza Opening Party 2009 Tracklist:
[00:00] 01. Davide Squillace — Crocodile Tears
[01:28] 02. Oliver Moldan — South Beach Shuffle
[06:45] 03. Martinez — My Anthem
[16:00] 04. N/A
[21:15] 05. Dubfire & Oliver Huntemann — Fuego
[28:30] 06. Paul Ritch — Last Night
[33:00] 07. Anja Schneider & Lee Van Dowski — La Roulette
[37:00] 08. N/A
[42:50] 09. Taz — Higher
[46:40] 10. Ascion & Davide Carbon — Muzik Live
[51:30] 11. Jacek Hamada — Schmutzige Musik
If you are wondering what equipment he is using:
Mixer: Allen & Heath X:One 92
Decks: Traktor Studio Pro
Soundcard: Native Instruments Audio 8 DJ
Midi Controller: Two Faderfox DX2s (pictured below)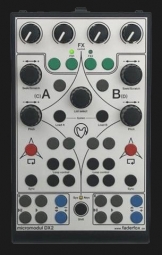 Download DJ Troika – November 2009 Mix
Notes:
This set was inspired by two nights out, one at Tribe Hyperclub with Steve Lawler at the decks for Mihail's birthday, and the next night at Circus Afterhours with Simon Patterson. Lawler played a dark, twisted and sexy underground set. Patterson played a trance set so this mix sounds nothing like what I heard at Circus that night, although it does have a very afterhours vibe to it. 🙂
Tracklist:
1. Behrouz – Where Are You Now?
2. Oleg Poliakov – House Of The Sun
3. Maetrik & Maceo Plex – Fabrick
4. Par Grindvik & Staffan Linzatti – Lights Up (On Divided Version)
5. Christian Smith – Push Factor (Oxia Mix)
6. Ricardo Tatoo & Ali3nato – Jericoacoara (San Schwartz Mix)
7. Damir Ludvig – Jackpot (Micky Monzza & Joseph Disco Mix)
8. Mutant Clan – Persuader
9. Ryan Thomson -Midnight Trust
10. Steve Lawler & Alex Tepper – Flexwood
11. D-Formation – Weakness
12. Ticon – Wrong is Correct (San Schwartz & Audio CL Mix)
13. Pig & Dan – Cubes
Download DJ Troika – October 2009 Mix
Notes:
Finally, I got some time to do a proper mix. Techy-proggy-sexy-techno shajze. The mixing is good, but this set is more about my favourite tracks from 2009 and late 2008. I tried very hard to edit this mix down to CD-length but was not able to without ruining the tracks and the mix flow. So here is the full mix at 1h and 28 minutes.
Tracklist:
1. Philippa – Feel The Sound
2. Alex Costa – Anton
3. Leevey – Black Sheep
4. Steve Bug – Look Who's Talking
5. Benny Rodrigues, Kapuchon – The Finger (Beckers & D-Nox Mix)
6. Astronivo – From Here (MOS Remix)
7. Side to Side – Cat in the Box
8. Steve Lawler, Jimmy Hill, Slajh – Red Carpet Mile
9. Infusion – Dogtown (Beckers & D-Nox Mix)
10. Audrey Loud – Try to Forget
11. Alex Del Amo, Aliver Schmitz – Tasty (Andrea Bertolini & Spartaque Mix)
12. Dubfire – Emissions
13. Beckers, Hatfield – Keep On (Velkro Mix)
14. Christian Smith, John Selway – Move (Dimitri Riktam & Gabe Mix)
15. Suicide Sports Club – My Black Dog (Gutterstylz Dub)
Download James Zabiela Appreciation Mix
Notes:
I have had a ridiculously busy year with no time to do a proper mix. This is a very nice mix from James Zabiela that I thought was great. I really like his new sound.
James Zabiela Mix of Appreciation Tracklist:
1. Aphex Twin – Avril 14th (Martynas M Sleepless Remix)
2. Depeche Mode – I Feel Loved (ID Mix)
3. Moby – Pale Horses (Apparat Dub)
4. Phoenix – Love Like A Sunset
5. Layo & Bushwacka – The Raw Road
6. Tonedepth – Rumblefish (Maher Daniel Remix)
7. Martin Eyerer, Namito & Stephen Hinz – Seven Lives (Butch Remix)
8. Paul Woolford – Knives (James Zabiela Remix)
9. N/A
10. Trancesetters – The Search
11. Underworld – Dark & Long (Nick Robson Mix)
12. N/A
I also managed to find this video James Zabiela totally fucking rocking the closing party at Space Ibiza!! What a crazy mix, I wish I could have been there! Almost full tracklist is at the bottom of the video.


James Zabiela, Space Ibiza Closing Fiesta 27/09/2009 Tracklist (Dancetrippin.tv):
1. Public Domain – Operation Blade 2009 (Dean Newton mix) (JZ Re-Edit)
2. Tone Depth – Rubmblefish (Maher Daniel remix)
3. Tomy DeClerque – Loky (Taster Peters Rollercoaster Remix)
4. Lee Coombs – Right Now (Dopamine Remix)
5. Empire Of The Sun – Walking On A Dream (Joey Negro Acid Dub)
6. Underworld, Mark Knight, D.Ramirez – Downpipe (Club Mix)
7. Martin Eyerer – Seven Lives (Butch Remix)
8. Marco G – Golgotha (Dean Newton Remix)
9. Sharon Phillips – Want 2 Need 2 (Trentemoller Mix)