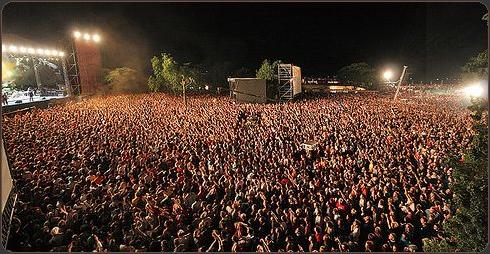 EXIT Festival 2009 in Novi Sad, Serbia was celebrating it's 10th anniversary this past July. EXIT saw approximately 200,000 people during its 4 days of festivities, and a wide range of DJs and Live Acts including The Prodigy, Moby, Lily Allen, Andy C, Sasha and Digweed, Steve Lawler, James Zabiela and Nic Fanciulli and lots more which are all listed here.
For me the best show by far was Prodigy who totally ROCKED the place! There were 40,000 people at the show and the energy was unlike anything I have ever felt at any show that I have been to.
Here is a video and interview with the Prodigy from a Serbian TV station:
I was fortunate enough to catch the Sasha and Digweed show at EXIT festival in Serbia this summer. Although their set was good, I was surprised that they didn't bang it out more at a festival the size of EXIT. There was about 20,000 people at the show, but I found they played a light set compared to the one I heard them play for a crowd half that size in Montreal at the end of 2007.
In any event, I am not complaining. The show was great and I thoroughly enjoyed listening to their set in a great setting at Petrovaradin Fortress in Novi Sad, Serbia. Here are some videos from their show:


Tracklist for Sasha & John Digweed @ EXIT Festival 2009 pt. 1
:
– Made by Monkeys – I think of you (Rui Da Silva remix)
– Moby – Pale horses (Gui Boratto remix)
Tracklist for Sasha & John Digweed @ EXIT Festival 2009 pt. 2
:
– Dance Disorder – My Time (Radio Slave Rekids Tribe Mix)
– Mobilize - Deep Silence
Tracklist for Sasha & John Digweed @ EXIT Festival 2009 pt. 3
:
– Humate – Love Stimulation (Radio Slave Full Length Vox Mix)