Notes:
I found this gem while browsing through the Dancetrippin archive. What a great set by Dubfire! Most important is what he is using to mix his set with. Dubfire has gone completely digital and is using a 4-deck Traktor set-up to play his tracks. Almost full tracklist at the bottom and a list of equipment he is using.


Dubfire Space Club Ibiza Opening Party 2009 Tracklist:
[00:00] 01. Davide Squillace — Crocodile Tears
[01:28] 02. Oliver Moldan — South Beach Shuffle
[06:45] 03. Martinez — My Anthem
[16:00] 04. N/A
[21:15] 05. Dubfire & Oliver Huntemann — Fuego
[28:30] 06. Paul Ritch — Last Night
[33:00] 07. Anja Schneider & Lee Van Dowski — La Roulette
[37:00] 08. N/A
[42:50] 09. Taz — Higher
[46:40] 10. Ascion & Davide Carbon — Muzik Live
[51:30] 11. Jacek Hamada — Schmutzige Musik
If you are wondering what equipment he is using:
Mixer: Allen & Heath X:One 92
Decks: Traktor Studio Pro
Soundcard: Native Instruments Audio 8 DJ
Midi Controller: Two Faderfox DX2s (pictured below)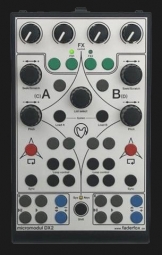 Download James Zabiela Appreciation Mix
Notes:
I have had a ridiculously busy year with no time to do a proper mix. This is a very nice mix from James Zabiela that I thought was great. I really like his new sound.
James Zabiela Mix of Appreciation Tracklist:
1. Aphex Twin – Avril 14th (Martynas M Sleepless Remix)
2. Depeche Mode – I Feel Loved (ID Mix)
3. Moby – Pale Horses (Apparat Dub)
4. Phoenix – Love Like A Sunset
5. Layo & Bushwacka – The Raw Road
6. Tonedepth – Rumblefish (Maher Daniel Remix)
7. Martin Eyerer, Namito & Stephen Hinz – Seven Lives (Butch Remix)
8. Paul Woolford – Knives (James Zabiela Remix)
9. N/A
10. Trancesetters – The Search
11. Underworld – Dark & Long (Nick Robson Mix)
12. N/A
I also managed to find this video James Zabiela totally fucking rocking the closing party at Space Ibiza!! What a crazy mix, I wish I could have been there! Almost full tracklist is at the bottom of the video.


James Zabiela, Space Ibiza Closing Fiesta 27/09/2009 Tracklist (Dancetrippin.tv):
1. Public Domain – Operation Blade 2009 (Dean Newton mix) (JZ Re-Edit)
2. Tone Depth – Rubmblefish (Maher Daniel remix)
3. Tomy DeClerque – Loky (Taster Peters Rollercoaster Remix)
4. Lee Coombs – Right Now (Dopamine Remix)
5. Empire Of The Sun – Walking On A Dream (Joey Negro Acid Dub)
6. Underworld, Mark Knight, D.Ramirez – Downpipe (Club Mix)
7. Martin Eyerer – Seven Lives (Butch Remix)
8. Marco G – Golgotha (Dean Newton Remix)
9. Sharon Phillips – Want 2 Need 2 (Trentemoller Mix)